If you are not tech-savvy, your wrong decision will remind you again and again in the future. The digital world is constantly evolving and changing into a new shape. So, here, we have shared complete information about Dell Small Form Factor Desktop, which can help you. A desktop does not require much experience; you can buy it easily with the correct information.
Many branded companies fulfil these small form factor desktop configurations in various models in the market. However, today in this blog post, we will describe only the new generation core i3 and i5 small form factor desktops of the Dell brand.
These small desktops are compact, known as Mini, SFF, and Micro; these models fit in very little space and are as powerful as the tower desktop. We will also describe their cons and pros in terms of future upgrades and determine whether it is worth the money or not.
Dell Small Form Factor Desktop
Therefore, when you buy a desktop, you should keep in mind your budget, which will suit you. In such a situation, there are many types of Desktop models available. Never buy old-generation desktop models; if you find the latest models in the market, go with that.
Right now, a variety of latest generation dell desktops are unavailable on e-commerce sites; they will take even longer to arrive. If available, we will provide the product link.
If not available on an e-commerce site, you should buy from the manufacturer's website by selecting the customizing option as you like.
Dell Desktop Models
However, you will find various Dell desktop models, like Vostro, Inspiron, Optiplex, Alienware and Precision.
Precision, Alienware, and Optiplex models have many customization options on their official sites. These models are for professionals, and you can customize them to make them powerful.
Suppose you are a content creator or gamer. In that case, you should go for a dedicated graphics card with an Optiplex tower model of a power supply unit of at least 300W or more.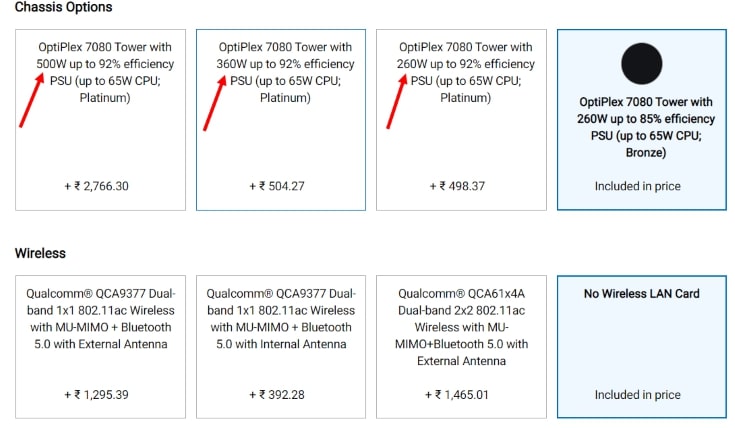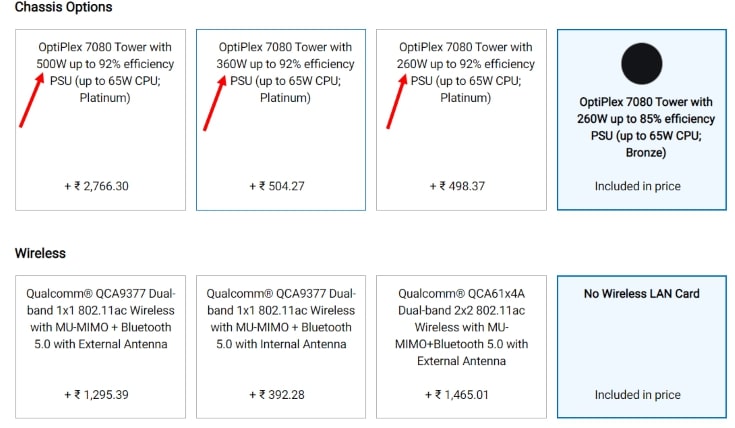 Desktop Hardware Specifications
Generally, the PSU of most SFF desktops comes with a maximum of 200W, which is not enough for any dedicated graphics card.
A small form factor desktop with IGPU has enough power to perform tasks such as email, editing videos, audio editing, web surfing, and word processing.
I use Dell Vostro Model Core i5 SFF Desktop; It comes with 8GB RAM, 256GB SSD and 1TB HDD by default. Later I upgraded it with another 8GB of RAM and a video card.
Before picking up an SFF desktop, you have to look at processor types, Generation, storage (SSD + HDD), PSU and RAM.
If you go with the windows 10 (Home) operating system, the price will be reduced by five to six thousand. Besides, you can reduce the cost by reducing the service warranty period.
Before purchasing the desktop, check a complete specification, such as PSU wattage, PCIe X16 slots, Processor models, RAM & Generation.
SFF Desktop Pros & Cons
| Dell SFF Desktop Pros | Dell SFF Desktop Cons |
| --- | --- |
| Lightweight and space-saving size: You can fit it in any small space and carry it in your single hand. | Processing power: Hardware specifications and processing power are typically reduced in small desktops. |
| Performance: The performance will be similar to the tower model. | Less space: Installing a standard powerful graphics card on a mini-desktop can be a problem. It has less space and can not fit a standard graphic card. |
| You can upgrade it with RAM and a video card, but it has limitations. | PSU size: Small desktops have a small power supply unit (200 W) by default; This model can be only suitable for low-profile graphic cards. |
| Low power consumption: Small form factor PC components are smaller than the tower model. The amount of energy required to operate an SFF PC is minimal. | You cannot customize the dell Vostro and Inspiron on the chassis options of the Core i3 models. |
| Aesthetic: Small form factor PCs are sleek, slim, and adapt to the aesthetic appeal of even the minimal design. | Small desktops are less suitable for running complex or resource-intensive applications and games. |
SFF DESKTOP
Branded Desktop Benefits
When you buy a PC on their official website, you get options to customize the specification.
Generally, MS Office also comes with a pre-installed genuine Windows 10 operating system.
If necessary, you can factory reset.
Warranty is another excellent option; you can upgrade the warranty period.
You can customize the specification
How to Define the Best Desktop?
These are the main points to keep in mind when purchasing a desktop.
Generation: Always go with the latest Generation
CPU: At least core i3, Further, core i5 or more powerful i7, i9
RAM: 8GB minimum
Storage Combination: SSD + HDD
OS: Genuine Windows Operating system
GPU: IGPU for general purpose. If you are a content creator,

graphic designer

or gamer, then prefer a dedicated graphics card.
Cooling System: Keep in mind; that a strong cooling system is required when planning to buy a gaming desktop
Power Efficiency: Today, low power consumption is essential in any electronic device.
MS Office: It should be free, like 'MS Office Home and Students 2019' comes free with a Dell desktop.
Therefore, before going further, you must decide which desktop will be best for you. Of course, it depends on your professional approach and what kind of work you have to do on the computer.
I will help you with what types of desktop computers are perfect for you.
Dell SFF Vostro Model
The Dell SFF Vostro model is originally designed to target a small group business organization. However, the Core i3, 8 GB of RAM, 256 GB SSD, and 1TB HDD are sufficient for regular office work.
If you have any regular graphics-intensive tasks for your project, select the core i5 SFF Desktop of the Vostro model. Then, add 2GB of dedicated low-profile graphic cards, such as GT 730 and GT 1030.
Dell's core i7 processor is the most powerful; you have to pay a vast amount of rupees for this; that's not a good idea and is best for professionals and the most demanding users. It can easily handle any task during gaming and video editing.
Affiliate Disclosure:
We sometimes use affiliate links in our content. It doesn't cost you anything but helps us with content writing and website costs. Thanks for your support.
Check on Amazon: "# ad" Click here.
Dell SFF Inspiron Model
The Dell SFF Inspiron model is designed to target a home user. However, the Core i3, 8 GB of RAM, 256 GB SSD, and 1TD HDD are sufficient for regular office work.
You can upgrade your desktop to the requirement in the same situation described in the above paragraph in the Vostro model section.
Check on Amazon: "# ad" Click here
About Generation
The Generation is significant when buying a desktop. The 10th-generation Core i3 is a quad-core and eight-thread processor model. The new 10-generation Intel core i3 processor model can function roughly like an 8-generation Core i5 processor.
About SSD
You have an option of M.2 PCIe NVMe SSD (flash drive) storage, read & write times 5x faster and 15x more performance than a traditional hard drive.
Dell SFF Desktop Price
CORE i3 PRICE: A Core i3 mini desktop price typically starts at around Rs 30000 and goes up to Rs 45,000. The type of storage determines the price, such as whether it has an SSD or HDD and RAM size.
CORE i5 PRICE: The Core i5 10th Gen desktop costs around Rs 40000. As you select more specs, its price also reaches around Rs.60,000. On average, you will get the best Core i5 10th Generation Mini desktop in India for Rs 50,000.
CORE i7 PRICE: It is one of the most powerful desktops. Accordingly, its price is also high. Its price starts at Rs 65,000. So you can get a Core i5 10th generation mini desktop in India with excellent specifications for seventy thousand rupees.
Dell Small Desktop size
Height: 290 mm (11.42 inches)
Width: 92.6 mm (3.65 inches)
Depth: 292.8 mm (11.53 inches)
Starting Weight: 3.52 kg (7.76 lb)
Conclusion
I hope you have an idea through this blog to make buying a small desktop easier. SFF desktops are great for offices, home workspaces, colleges and many more, where desktop PCs are highly demanded. If you like this blog, then definitely share it with your friends.