You must have an SBI Net banking username and password, to log in. You can get it from the SBI branch or online. It is essential, but if you forget your username and password, you can easily recover them in many ways.
The State Bank of India is the largest bank and provides various online services. So it does not matter where you are, you will get all the online banking facilities.
The website of the State Bank of India provides online access to your accounts anytime. So, you must visit the official website of SBI to recover your 'forgotten username.
SBI Yono Lite app also provides this facility, To know via Yono Lite check here for more details.
How to Get SBI Forgot Username Online?
SBI Internet Banking Username and Password are essential for online services. But, if you have forgotten your username for some reason, you can find it. You need a CIF number which you will get on your bank passbook.
But, if you do not have a passbook, check here to know how you can get your SBI CIF number without a passbook. A CIF number is not enough; You will also need to enter your registered mobile number.
So, keep your CIF number and mobile with you during the forgot username recovery time. Below are some of the steps required to get a forgotten 'Username' for SBI Internet banking.
How to recover forgot username of SBI?
Following are the simple steps to recover the forgotten 'Username' in SBI: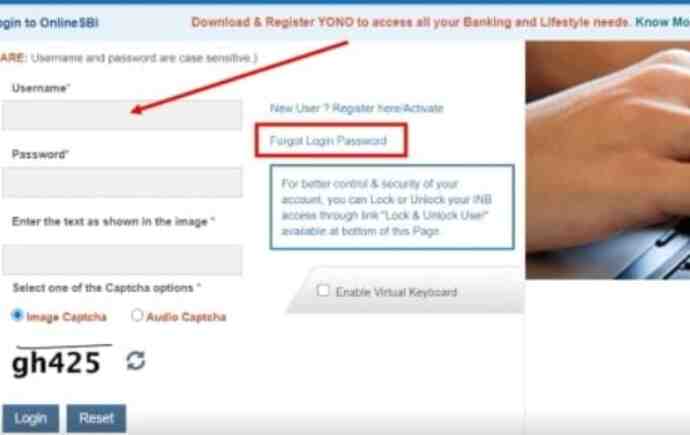 Step 1: Visit the official website of SBI at www.onlinesbi.com. Click on the link on the login page-Forgot Username / Login Password. You will be redirected to another page of SBI.
Step 2: Click on 'Forgot My Login Password' on the next page. You will get four options, select the 'Forgot Username' and click on 'Next' to proceed.
Step 3: You need to enter the SBI CIF number, Country, Registered mobile number and Text Image. Click on the 'Submit' option.
Step 4: You will receive OTP on your mobile on the next page. Enter OTP and click on the 'Confirm' option. Once confirmed, you will receive the username on the next page. Besides, you will also get the Forgot Username on your mobile.
FAQs
Can I change the Internet Banking Username in SBI?
You can change the Username only once in SBI Internet banking.
What is OnlineSBI's Forgot Username?
OnlineSBI is an internet banking service that you can access through your username and password.
Where I will get the CIF number in SBI?
You will get CIF on your bank passbook; you can also get a CIF number online or via SMS.
Are username and User ID both the same in SBI?
Username and User ID are both the same word. Actually, in SBI, it is called a Username.
Conclusion:
You can find your SBI Internet Banking username in two ways, that is using the YONO Lite app and the online SBI web portal. Here, we have only mentioned the official website of SBI, as we already have one more tutorial for 'username' through the YONO Lite app, the link of which is given above. Both are the same as you have to enter your CIF number, registered mobile number etc in both. But, the YONO Lite application is easier for the users.