If you have not yet made a PAN card, then the government has started the facility to make it in minutes. If you have it, you must verify your PAN details; it is real or fake.
For this, you have to go to the e-filling portal of the Income Tax Department's official website. For any financial transaction, you must have a PAN card. Besides, it is also necessary for day-to-day financial activities and making necessary documents.
PAN's ten digits make it easy to open bank accounts, get a loan, buy or sell property, make a license, buy vehicles, and file ITR, even though it is also essential when you are buying more than 2 lakh worth of jewellery.
Following the nationwide lockdown, thugs make fraud victims using fake PAN cards. Nowadays, phoney PAN card cases are coming up every day. In such a situation, you need to know whether your database matches your PAN card.
The PAN card has a significant role in our daily life. It is even more important when you frequently transact in the bank; whether your PAN card is real or fake, you must check it once.
How to Verify Your PAN Details
So today, in this article, we will know in minutes whether your PAN details are real or fake.
01: Go to the e-filing portal of the official website of the Income Tax Department. (https://www.incometaxindiaefiling.gov.in/home).
02: Here, you have to click on the 'Verify Your Pan Details' link.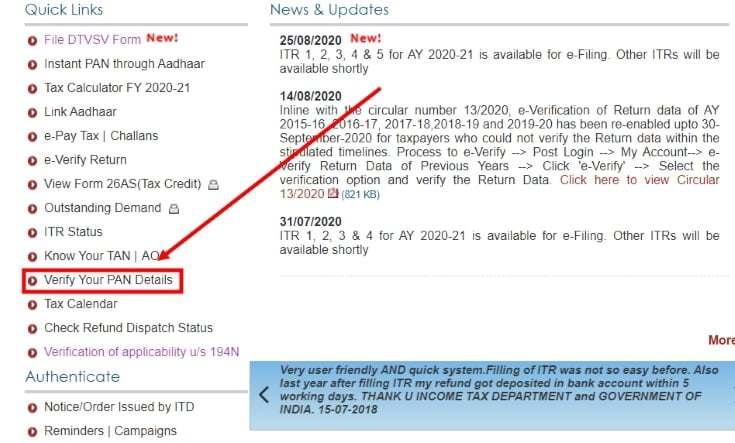 03: On the next page, enter details of the PAN card, such as ten digits of the PAN card, full name, date of birth, captcha code image, and click on submit.
After filling in the correct information, the message will come on the portal, whether the data matches the PAN card. 
If the PAN database matches, then a message will appear here, 'PAN is active, and the details are matching with the database'.
In this way, you can check your PAN details, real or fake, in a minute.
About PAN
The Income Tax Department issues a ten-digit permanent account number. This Permanent Account Number is also called a PAN card; it is an essential document of our identity, especially in banking & financial affairs.
If you do not have a PAN card, you can easily create it on the e-filling portal of the Income Tax Department's official website.
You must be 18 years of age; apart from this, you must have an Aadhaar card verified by your mobile number.