PhonePe app allows users to add multiple bank accounts, and adding a bank account in PhonePe is very simple, you know. So at the same time, removing a bank account from PhonePe is also very easy. So, if you don't know how to do it then you are at the right place.
PhonePe is one of the fast-growing UPI-based mobile payment applications in India. Now it has nearly 300 million registered users in India.
So everyone knows about Phonepe that how to use it for fund transfers, bill payments and other transactions.
But, for any reason, if you don't know how to remove your bank account from PhonePe, then see below.
Steps to Remove Bank Account from PhonePe
If you have linked more than one bank account and want to delete any account or don't want to use PhonePe, you should unlink bank accounts. So, below are some steps to remove bank accounts from PhonePe:
Step 1: Open your PhonePe app; You have to select the Profile image at the top of the left side.
Step 2: On the next screen, you will find your linked bank accounts. Select the bank account, which you want to remove.
Step 3: Next, select 'Unlink' to remove the bank account from PhonePe. This is how you can unlink your bank account from the PhonePe app.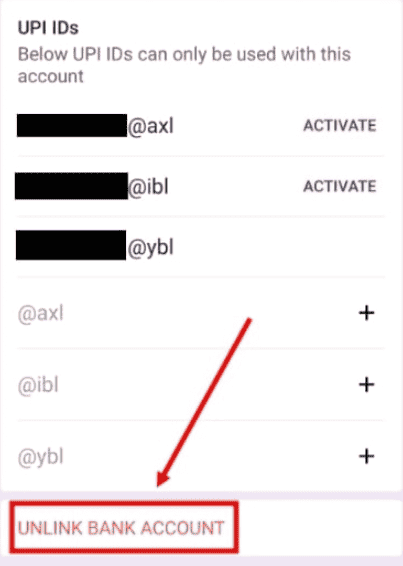 Step 4: Scroll down, and you will get the Unlink Bank Account option. To remove your bank account, tap on Unlink Bank Account.
FAQs
Q: Can I add multiple accounts in PhonePe?
A: You can add multiple bank accounts in PhonePe because UPI allows linking numerous bank accounts in a single mobile application.
Q: Is PhonePe a secure mobile payment app?
A: With the PhonePe app, all NPCI-approved third-party mobile payment apps are secure. But, PhonePe is one of the more reliable and fastest third-party UPI apps in India.
Q: How to register with the PhonePe Application?
A: It is very easy, you need a bank account, and your mobile number must be registered with the bank account. Install the PhonePe app from Google or Apple store and verify your mobile number. Generate UPI PIN and start using it for fund transfer, mobile recharge, bill payment etc.
Q: How to delete a bank account from PhonePe?
A: It is very simple to delete your bank account from PhonePe. Select your linked bank account and tap the Unlink option to delete your bank account.
Conclusion
Transaction failure in PhonePe is sporadic; If the transaction fails due to some technical issues, it may take 72 hours to receive the return in your bank account. You can do it anytime if you want to remove your bank account from PhonePe. Also, if you want to add your bank account to PhonePe, you can add it in a few seconds.