UPI PIN is essential for any mobile payment app; you cannot do any transaction without UPI Pin. Google Pay is the best payment app for users, and it is more secure. If you want to change your UPI Pin, you can do so. In this article, we will share a step-by-step guide to changing your UP Pin.
Before proceeding further, it is essential to know some basic information about this app. You can pay bills, book train tickets, recharge mobiles, and transfer money or receive money directly from a bank account. Being Google's payment app, it is considered more secure.
There are five types of money transfer options, these are through Bank Account, Phone Number, UPI, QR Code, and Self-transfer. For fund transfer or bill payment, tap on the 'New Payment' option at the bottom of the home screen.
What is Google Pay UPI PIN?
Google Pay works with the 'Unified Payments Interface (UPI), operated by the National Payments Corporation of India, which is very popular for simplified and secure transfer of money in India. You can install it on your mobile phone from the Google play store, and enter your registered mobile number to link the bank account.
You have to link your bank account for money transfer or bill payment, and bank account verification will be done through automated OTP. While adding a bank account, you will have to create a UPI PIN for bill payments, and fund transfers; The UPI PIN is required for every UPI transaction.
If you want to change your UPI PIN, you can change it by tapping on the profile icon in the top right corner. You can change this without entering a debit card or ATM card details, and it is necessary to change the UPI PIN over time.
Typically, the UPI PIN in SBI is six digits, but in HDFC, it is four digits. Therefore, if you have added other bank accounts, the UPI PIN can be four or six digits.
In the image below, the UPI pin change option is shown. So, you have to select the Change UPI PIN option. Then, enter your new four-digit UPI PIN and confirm by re-entering the same UPI PIN.
But if you Forgot the UPI PIN in GPay, you will need your debit card to enter your debit or ATM card details. So follow the steps given below.
How to Change UPI PIN in Google Pay?
1: Open the GPay app; you will find a profile icon at the top of the screen's right corner.

2: Tap on the Profile icon, and the following screen will appear. Choose a bank account here.

3: You will get a bank account list if you have added more than one account on the next screen. Select the bank account in which you want to change your UPI PIN.
4: Now, select the icon at the top right corner of the screen. If you want to change your UPI PIN, click on the Change UPI PIN option and replace it with your existing PIN.
5: If you have forgotten the UPI PIN, you have to select 'Forgot UPI PIN' to reset the UPI PIN.
6: On the next screen, enter the last six digits of the debit card, the expiry date of the month/year, and continue.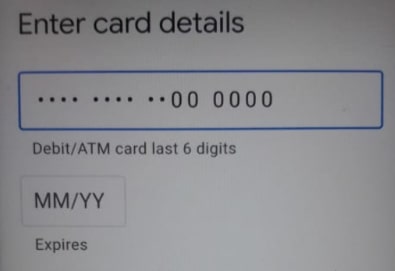 7: You will get a six-digit OTP number on your registered mobile; enter the OTP number and a four-digit ATM card PIN.
8: Again, there will be an option to enter a four-digit UPI PIN, enter the UPI PIN, and confirm by re-entering the same UPI PIN. That's all.
This way, you can create or reset the UPI pin in Google Pay in seconds.