Due to massive damage to lockdown, Prime Minister Narendra Damodar Modi has appealed to the people to donate to the new PM cares fund. In such a situation, if someone wants to contribute to the 'new PM Cares Fund', he should donate according to his financial condition.
Today in this article, we will share two correct ways to donate to PM Cares Fund, ensuring that your money does not go to someone else's account.
So, I talk about how anyone can donate to the PM cares fund safely online through BHIM UPI ID. There are two websites available to donate the PM funds online, www.pmnrf.gov.in, and another site is www.pmindia.gov.in.
New PM Cares Fund
The first website www.pmnrf.gov.in is already operational; any donor can donate at any time of the year.
However, recently the new website www.pmindia.gov.in has been launched due to the lockdown effect of covid19 in the country. Anyone can donate to New PM Care Fund through this website.
There will be much damage, and the Prime Minister has appealed to people to donate through this website; the PM SBI account number, IFSC code and BHIM UPI ID are available here.
Several steps are being taken to stop coronaviruses. The government requires funds, So the Prime Minister appealed to people to donate through the website where PMs provide an Account number, IFSC codes and BHIM UPI IDs.
How to donate New PM cares fund online?
STEP 1: Open the official website of the PM Cares fund, www.pmindia.com.
STEP 2:  Here, you will get the option 'click here for donation details. Tap on it, and you will get donation details. 
DONATION DETAILS:
Name of account: PM CARES
Account Number: 2121PM20202
IFSC code: SBIN0000691
UPI ID: pmcares@sbi
Branch: New Delhi Main Branch-State Bank Of India
Tap on 'click here for online donation', and the following screen will appear.
STEP 3: On the State Bank Collect page, Tick the Terms Used box and proceed. The next page will appear.
STEP 4: Here, you have to select Payment Category-'Donation'.
SETP 5: As soon as the 'Donation' is selected, you will have to fill in the details of the payment format, Such as…
Name
Email
Phone Number
Country
Nationality
State
Address 1/2/3: (optional)
PIN CODE: (optional)
PAN Number: (optional)
Amount
NOTE: Here, address 1, address 2, address 3, Pin Code, and PAN number are all optional.
Name, date of birth, and mobile number will have to be given in the format below for reprinting the e-receipt.
Name
DOB
Mobile Number
Email: (optional)
Enter the text (captcha) as shown in the image and SUBMIT.
STEP 6: On the next page, verify your details and confirm this transaction. Tap on CONFIRM.
STEP 7: On the next page, Here so many options to donate online to PM funds care, Like State bank net banking, State bank cum-debit card, SBI Prepaid card and SBI other payment modes.
Besides this, donors can also pay through other bank net banking, other bank debit cards, foreign cards and other bank credit cards.
Donate to PM cares fund through UPI ID
STEP 8: Open the PhonePe app, and tap on 'To contact' under Transfer Money.
STEP 9: On the next screen, type Bhim UPI ID of the Prime Minister and verify. (pmcares@sbi)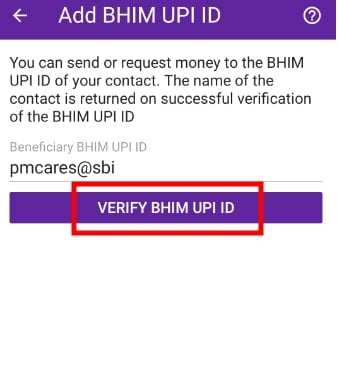 STEP 10: Type the donation amount and proceed.
STEP 11:  Enter the UPI PIN to complete the transaction…That is all.
So after reading this article, Anyone can easily donate to PM funds care online as well as Bhim UPI ID.