UPI is a rapid payment interface allowing users to transfer money through the app without sharing bank account details. But, due to the extensive use of UPI, fraudsters are also targeting the user. So, if you are looking for UPI safety tips for PhonePe, Paytm, or Google Pay, this step-by-step guide will help you.
Here, we have shared seven plus safety tips for UPI Apps to help keep you alert. Nevertheless, the fraudsters cleverly manage to cheat mobile payment apps like Paytm, PhonePe and Google Pay.
Fraudsters always use a new method to deceive users. Most people get caught in the trap of fraudsters and lose thousands of rupees in this trap.
How to Avoid Fraudsters while using UPI
You always have to be vigilant with these fraudsters. UPI platform is considered the most secure; it does not require any user ID and password and requires your PIN or transaction password, which is created itself. Today, mobile phones are used for various purposes like banking, bill payments, recharges, e-commerce, etc.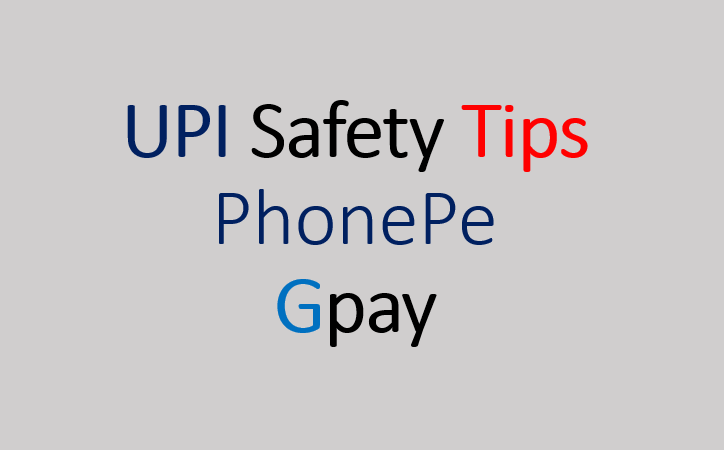 But, UPI takes advantage of this and connects to your mobile number for identification. When you sign up for the UPI, your phone sends an SMS for verification purposes. Ensures that no one can copy the OTP from another device. UPI PIN adds an extra layer of security to your transactions.
Check also: Know UPI ID in Different Apps
UPI Safety Tips for PhonePe, Paytm, Google Pay
You must remember the following 7+ UPI safety tips that will help protect you from UPI frauds through PhonePe, GooglePay and Paytm.
Download Payment apps from official stores like 'Google Play Store and 'Apple Store.'
Do not use your registered mobile number on any social platform.
Never click on a link you received in an email or a fraudster's text message.
Do not download and install third-party apps like Screenshare, Anydesk, or Teamviewer.
Do not share confidential details like card number, expiry date, PIN, OTP etc.
Fraudsters cheat the most through phone calls, so understand the motive of the phone call.
Always use a secondary mobile number that is not linked to the bank account.
There is no need to enter the UPI PIN while receiving the amount; you will transfer if you enter a PIN.
Top UPI Safety Tip
When you transfer funds with someone through PhonePe, Paytm, or Google Pay, you must enter your UPI PIN. But UPI PIN is not required while you receive payment. So, this is the most significant point; you don't need to enter your UPI Pin to get funds. But, if you enter your Pin, you have transferred your money.
Type of UPI Fraud
Following are the types of frauds in UPI through third-party payment apps:
Request Money Fraud: The 'Request' feature allows people to send you payment requests. You can send money to another user by simply clicking on the 'Pay' button and entering your UPI PIN. Unfortunately, fraudsters misuse this facility by sending bogus payment requests with messages like 'Enter your UPI PIN to receive money.
Payment Fraud through Third Party Apps: Users often use social media channels to highlight their problems with a transaction. The fraudsters will then call you to help as a representative and ask you to download screen-sharing apps such as ScreenShare, AnyDesk and Teamviewer. You will then be asked to hold your Debit/Credit card in front of the phone camera so that the "PhonePe Verification System" can scan the details. Then they see the OTP and transfer the money to their account.
Scan QR Code to Receive Money Fraud: The fraudsters share a QR code on a multimedia app like WhatsApp and ask you to scan this code to receive the money. Remember, no such feature allows you to scan the QR code to receive money.
Twitter Fraud: The popular trick is that they tweet with fake customer care numbers like PhonePe helpline numbers. Then customers call the fake helpline numbers and share sensitive information like cards and OTP details.
Social Engineering Fraud: They will act as if they know you and call you pretending to be your bank's customer support representative. They will then ask you to provide the OTP to complete the transaction and top up your wallet using your debit card.
Sim Swap Fraud: A SIM swap scam occurs when fraudsters use your personal details to issue a new SIM for your phone number. By doing so, they also gain access to the OTP required to authorize payment from your bank account. The fraudster will call you as your mobile operator's representative and ask you to forward an SMS to upgrade your mobile network. They will deactivate your mobile number.
5 Best UPI Apps In India 2022
These are the secure and most used mobile payment apps in India.
Google Pay (GPay)
PhonePe
Paytm
Freecharge
Mobikwik
See also – How To Create UPI ID in SBI
Use of UPI PIN
To create a PIN, you must enter your debit card details and verify the OTP sent by your bank on your registered mobile number. Your UPI PIN is required for every transaction for authorization. You need to enter your UPI PIN when sending money through UPI, but it is not required when receiving it.
UPI Apps Top Security Features
Physical access to your phone will not be enough to do the transaction. For example, if your phone is stolen, your PIN will be required to conduct the transaction, and your account money will be safe.
There is no intermediate step where fraudsters gain access to your bank account. In short, UPI transactions are made bank directly to the bank.
UPI is currently being linked with the Aadhaar biometric, in which UPI security will be increased even more. UPI 'PIN' also has an additional security layer.
Importance of UPI PIN
UPI PIN is essential when you are going for any transaction, online shopping, bill payment or mobile recharge. You can not do anything without UPI PIN. Entering a UPI PIN means that you are paying someone.
Remember, you do not need to enter a UPI PIN while receiving. Do not share the registered mobile number on any social platform linked to the bank account. Most fraudsters commit fraud through mobile numbers. Such as phone calls, fake SMS, fake link and more.
FAQs:
Do I need to enter a UPI PIN while receiving money?
No, You do not need to enter UPI Pin while receiving money.
Can I Change the UPI transaction limit in SBI?
Yes, you can change the UPI transaction limit in SBI.
What is the maximum limit of UPI?
The maximum limit of UPI is Rs 100000/- per day.